A menudo nos encontramos con 'watchlifestylers' que tienen curiosidad acerca de las diferencias entre los distintos tipos de 'tapisseries' en la línea Audemars Piguet Royal Oak y Royal Oak Offshore. Aunque muchos saben sus nombres, pocos conocen la diferencia entre estos diferentes tipos de 'tapisserie'.

Ahora bien, ¿Cómo le hace Audemars Piguet para crear estos patrones de líneas entrecruzadas 'Clous de Paris'?
La carátula de latón es grabada por un cincel que reproduce el patron de un disco conectado a una máquina con una especie de pantógrafo. Un puntero gira a través del disco desde la periferia hacia el centro. El sistema se combina con una herramienta que forma las pequeñas líneas entre los cuadrados piramidales y tarda entre 20 y 50 minutos, dependiendo del diámetro de la carátula. Es una operación sumamente delicada y un simple salto del cincel es todo lo que se necesita para arruinar el producto final. He aquí un video cortesía de Audemars Piguet que muestra el trabajo detrás de la creación de una carátula.
Desde
el
2012
,
todos las carátulas
se producen en la manufactura de Audemars Piguet en Le Brassus.
Hoy en día
existen tres tipos de
'
tapisseries'
ofrecidos por
Audemars
Piguet
, sin embargo, en realidad existen
cuatro si tomamos
en cuenta que
ha habido
cambios en el
'
Petite Tapisserie'
entre
las
referencias
antiguas y las referencias modernas
del Royal Oak
. Por ello decimos que hay realmente cuatro.
El primer tipo de 'tapisserie' es el 'Petit Tapisserie' Antiguo que se encuentra en los primeros Royal Oak Jumbo, en la mayoría de los Royal Oaks de los años ochentas y noventas y también en los primeros modelos del Royal Oak Offshore referencia 25721. A continuación tenemos una foto de una carátula original del Royal Oak Jumbo referencia 5402SA del año 1978 y una de la carátula del primer Royal Oak Offshore referencia 25721ST para que vean el detalle y lo pequeño del patrón piramidal.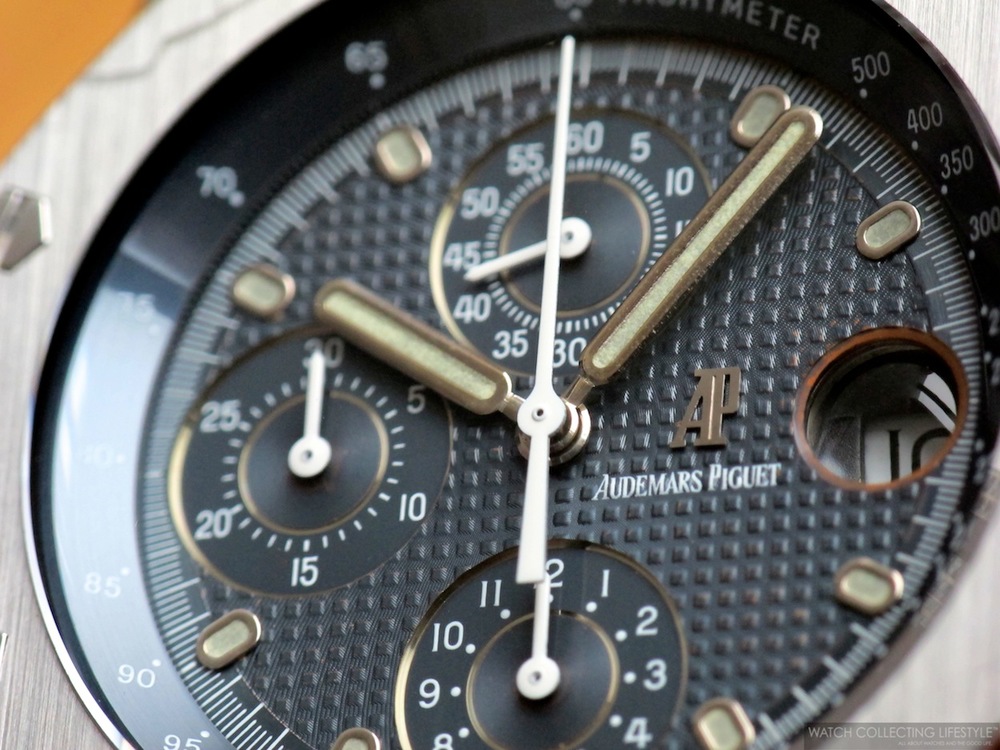 Hoy en día el 'Petite Tapisserie' es un patrón de uso exclusivo en el nuevo Royal Oak Extra-Thin ref. 15202 —presentado el año pasado en conmemoración del 40 aniversario del Royal Oak—, en la referencia 26510 Tourbillon Extra-Thin y las carátulas de reemplazo durante el servicio para los Royal Oaks ref. 5402 y los Royal Oak Offshores ref. 25721ST.OO.1000ST.01.
Si te fijas bien en las siguientes imágenes, te darás cuenta del cambio al que nos referimos en lo que respecta al 'Petite Tapisserie'. La primera foto es de una carátula de reemplazo para un Royal Oak 5402SA Jumbo y la segunda imagen muestra una comparación entre la carátula original y la de reemplazo en el mismo reloj.
Si te fijas bien, te darás cuenta de que los cuadrados piramidales del patrón en la carátula original son más pequeños y que hay diez cuadrados entre el centro de las manecillas y el fechador. Si nos fijamos en la carátula de reemplazo, verás que en lugar de diez cuadrados, sólo hay nueve. Mientras que el cambio ha sido casi microscópico y milimétrico, nuestros ojos expertos pueden notar la ligera diferencia entre ellos.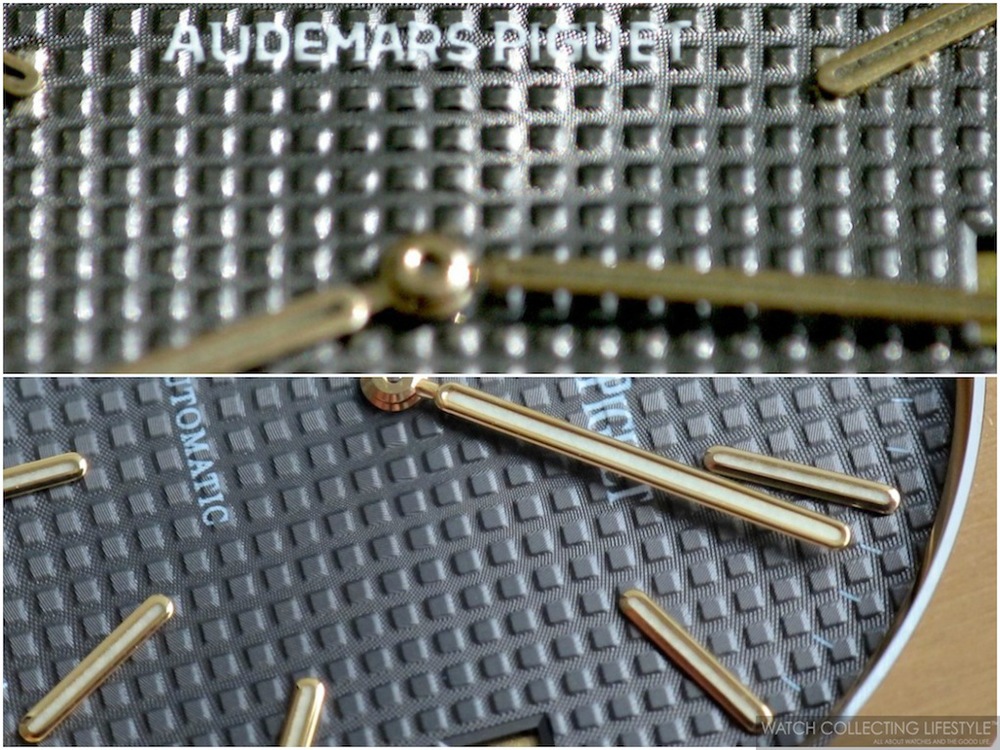 El patrón 'Grande Tapisserie' viene en las referencias 15300, 15400, 15450, 26320 Cronógrafo, 26330 Day & Date, 26120 Dual Time, 26252 Perpetual Calendar, 26603 Ecuación del Tiempo y en la referencia 25977 Tourbillon Cronógrafo. Los cuadrados en este patrón son por lo menos cincuenta por ciento más grandes que en el 'Petite Tapisserie'. Algo que también notarás, es que la impresión de 'Audemars Piguet' y 'Automatic' esta hecha sobre áreas planas de la carátula que el cincel dejo sin marcar para facilitar el trabajo de impresión.

Por último, el patrón 'Méga Tapisserie' es el más grande de los cuatro y esta disponible en la mayoría de los modelos de la línea Royal Oak Offshore incluyendo el Themes, Safari, Diver, Bumble Bee, Rubberclad, algunas de las ediciones limitadas y en todos los modelos de la nueva línea Royal Oak Offshore de 44mm. Ahora bien, el calendario perpetuo Royal Oak Offshore es una de la excepciones, dado que su carátula viene con el patrón 'Grande Tapisserie'. Los cuadrados en el 'Méga Tapisserie' tienen el doble de tamaño cuando se les compara con los del 'Grande Tapisserie' y siempre tienen un acabado más brilloso.

Because you never get a second chance to make a first impression as Audemars Piguet says, we've included this gallery full of eye-candy for our beloved readers. For more info on Audemars Piguet click here.