El Audemars Piguet Royal Oak Offshore ref. 25770ST.OO.0001.KE.01 es uno más de los modelos de relojes Audemars Piguet descontinuados que bien vale la pena analizar, fotografiar y reportar durante una tarde de verano .

Este reloj fuera de serie, fue lanzado en el año 1997 como antecesor al Royal Oak Offshore 'End of Days' de edición limitada ref. 25770SN.OO.0001.KE.01 que salió al mercado en el año 2000. El reloj de edición limitada 'End of Days', fue el primer reloj en su tipo que formara parte de la línea Royal Oak Offshore con tan solo 500 piezas. Este reloj, es resultado de la colaboración entre el actor Arnold Schwarzenegger y Audemars Piguet durante el rodaje de la película 'End of Days'.
El legendario Audemars Piguet 'End of Days' también conocido entre coleccionistas como el 'EOD' es uno de los primeros relojes creados con caja de acero negro PVD en la historia y equipado con una correa color gris obscuro hecha de Kevlar —fibra comúnmente usada en blindaje de autos y ropa— y una segunda correa de piel negra.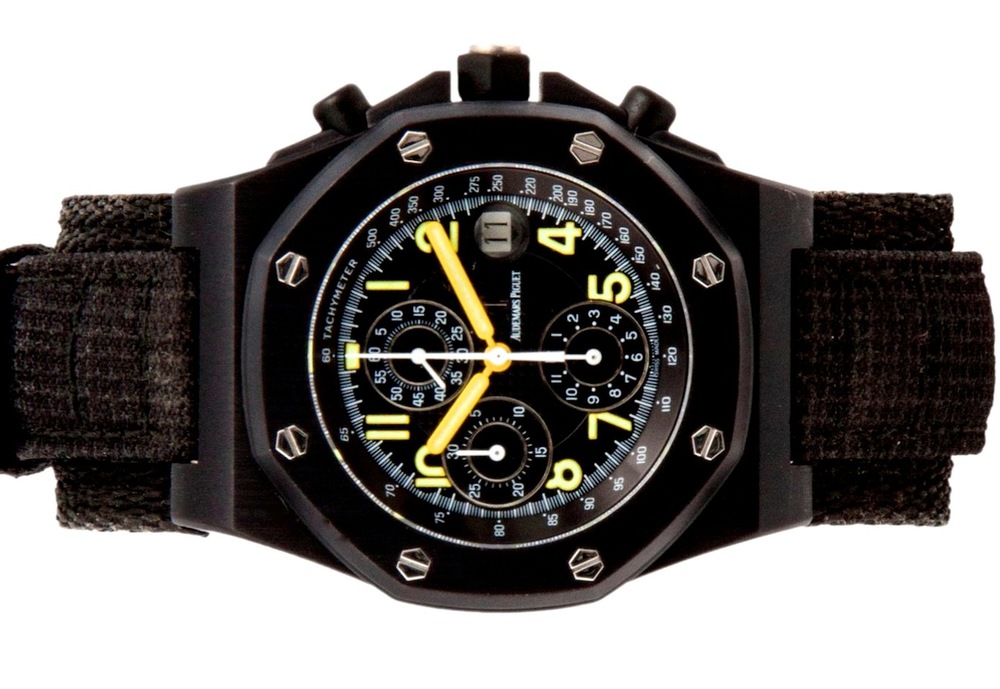 Cabe mencionar que existe otro reloj 'End of Days' aún más raro y altamente cotizado que lleva el número de referencia 25770SN.OO.0001.AR.01 y del cual sólo existen cuatro piezas, mismas que Arnold Schwarzenegger uso durante el rodaje de la película en cuestión. Por último les comentamos que existe un reloj 'End of Days' pieza única que lleva el número de referencia 25770SN.OO.0050.AR.01 y que a diferencia de los otros, viene equipado con correa de Kevlar amarilla en lugar de gris obscura.
La diferencia principal entre el Royal Oak Offshore ref. 25770ST.OO.0001KE.01 y el 'End of Days', es que el primero tiene una caja con el mismo diseño pero en acero inoxidable en su color natural y una carátula azul con el mismo diseño que incluye el centro con 'petite tapisserie', aro concéntrico sin 'tapisserie' con números arábigos con material luminos y contadores del cronógrafo en gris claro. La caja tiene el mismo diámetro de 42mm y el reloj viene equipado con la misma correa de Kevlar color gris obscuro.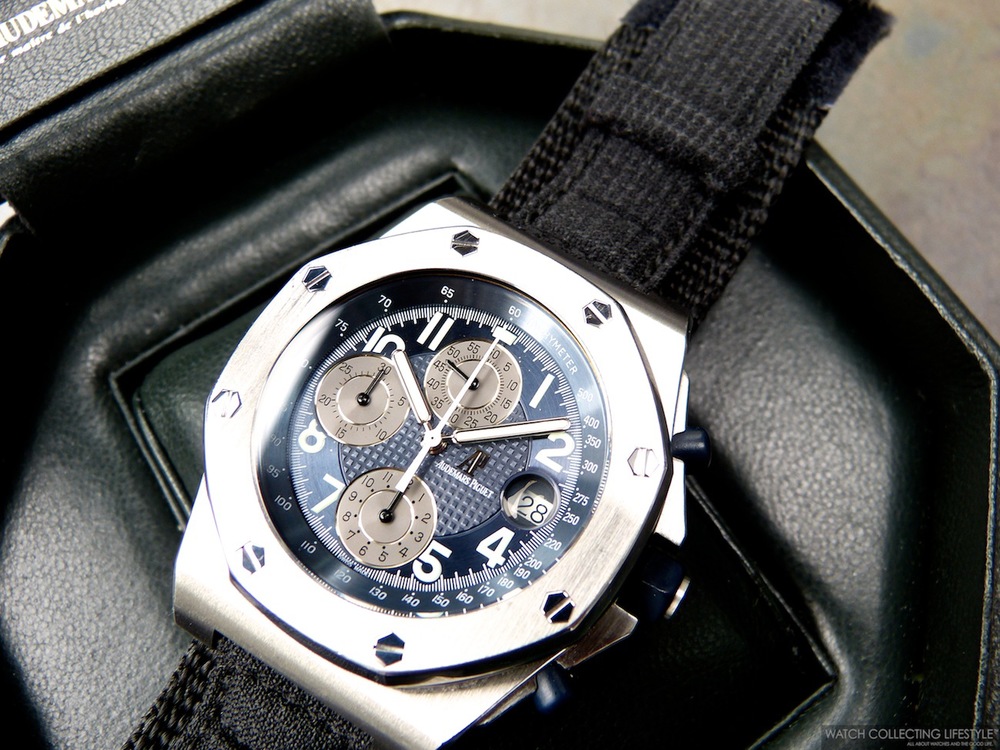 La correa es una de nuestras correas favoritas por su diseño fuera de serie y su 'look' original. Cuando alguien se topa con uno de estos relojes caminando por la calle o en algún restaurante, la correa es la forma más fácil de identificar a este reloj por encima de otros Royal Oak Offshores. Aún y cuando la correa de Kevlar se ve bastante rígida y aspera, es extremadamente cómoda —quizás la correa más cómoda dentro de la línea de relojes Audemars Piguet que nos ponemos de manera regular.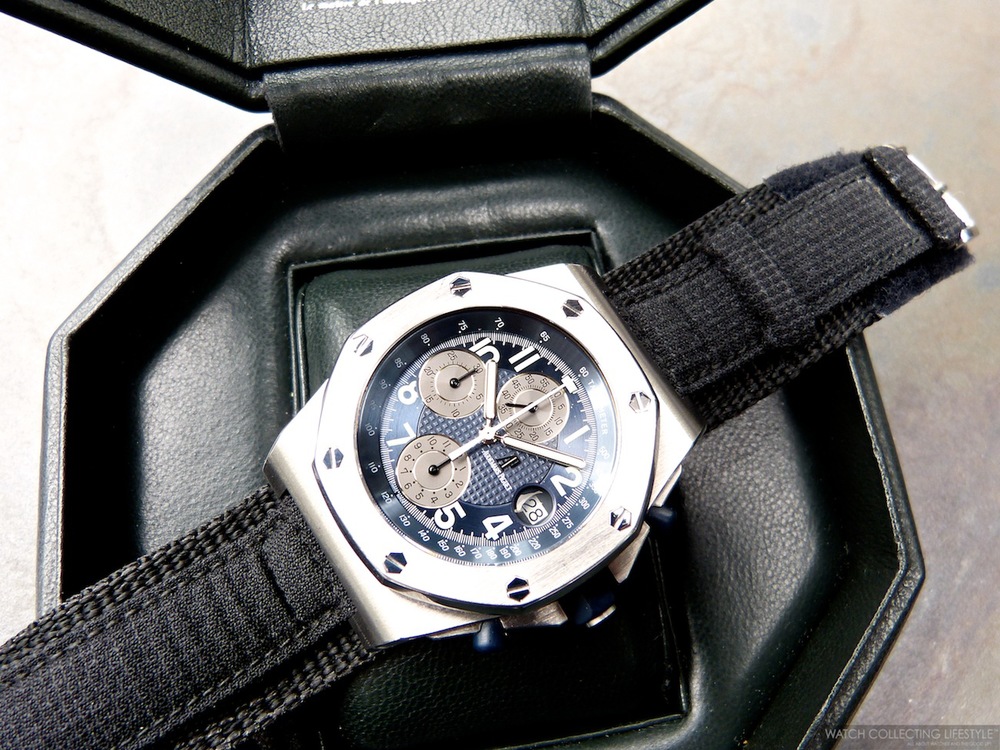 La correa esta compuesta por dos partes para asegurarla a la muñeca. La capa superior o exterior es de Kevlar, mientras que la capa inferior o interior es de un nylon similar al utilizado en cinturones de seguridad. Esta última viene equipada con un velcro que permite asegurar la primera parte de la correa a la muñeca, para después abrochar la segunda parte que viene con una pequeña hebilla con el logo de AP.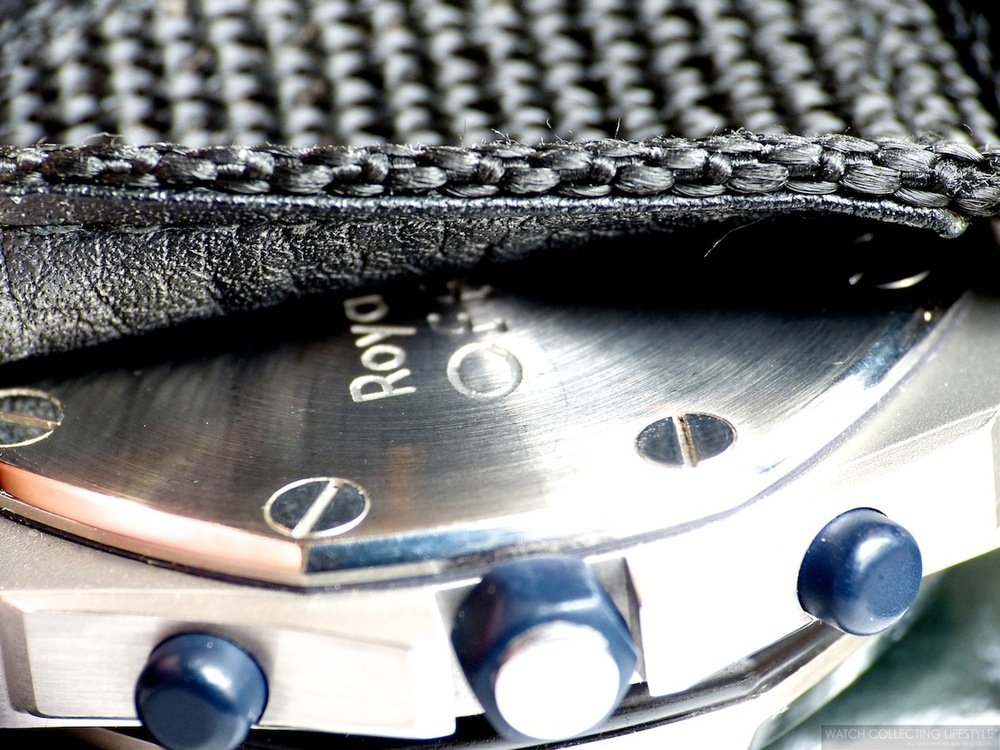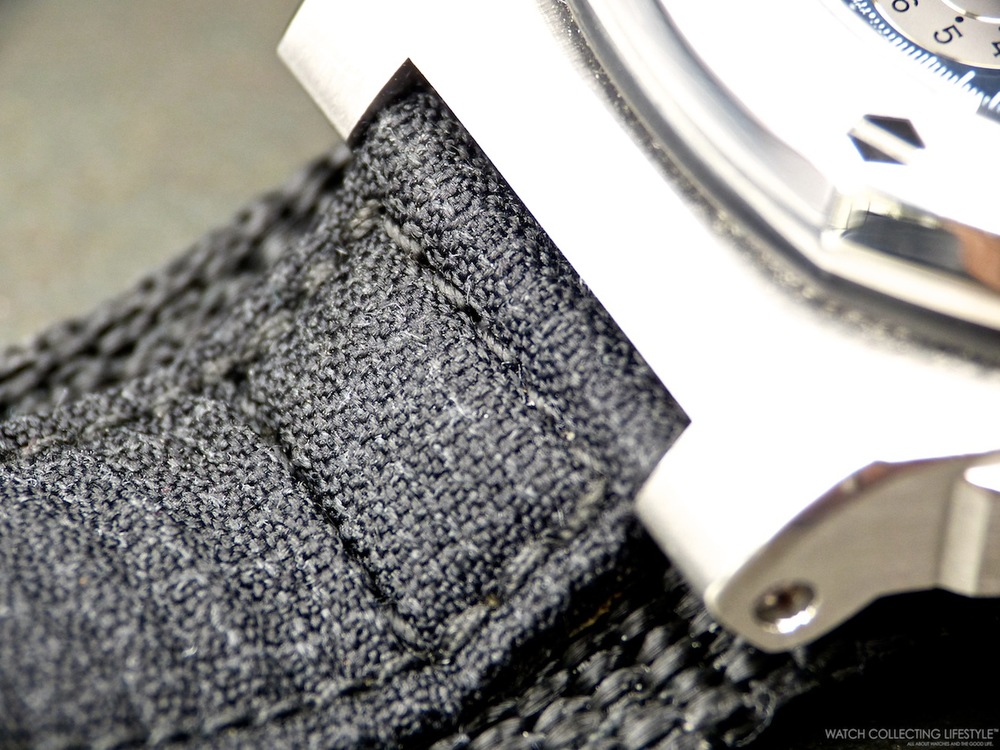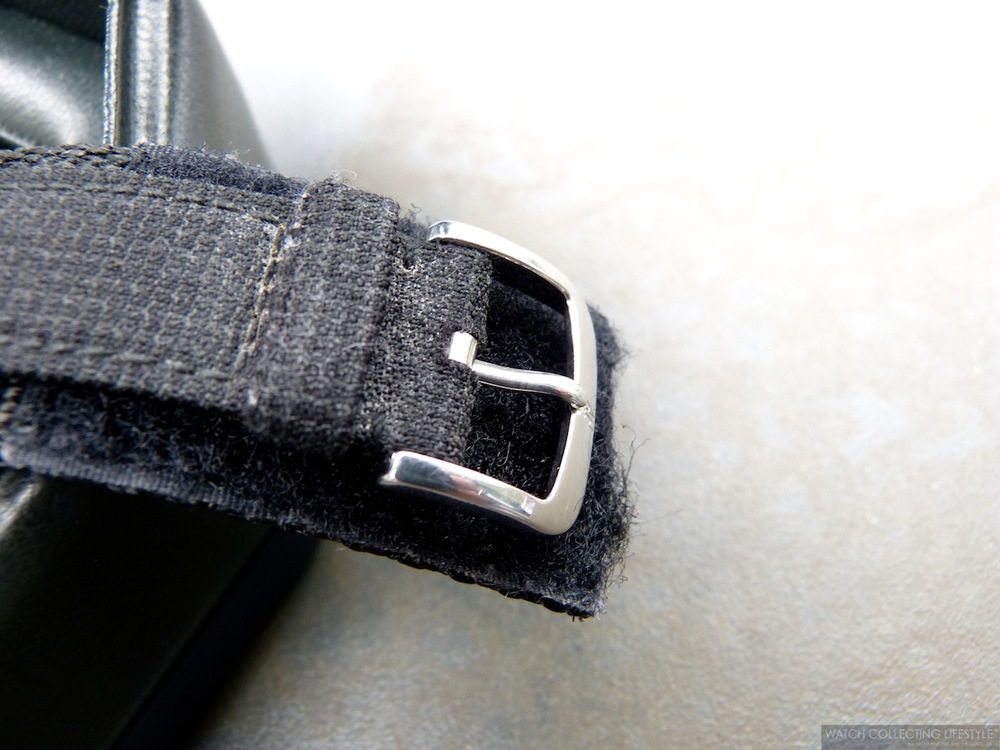 La carátula tiene el mismo tono azul que la carátula del primer Royal Oak Offshore. Los números arábigos tienen un tono verdoso debido al material luminoso utilizado en ellos, sin embargo, en fotografías aparentan ser más blancos que en la realidad. El material luminoso es tan potente, que aún con la más mínima variación de luz como la de un túnel o paso a desnivel, uno puede ver su luminosidad formidablemente.
Los contadores grises para el cronógrafo cuentan con números en negro y manecillas de aguja negras, creando el contraste perfecto sobre el fondo azul de la carátula. El segundero del cronógrafo esta localizado en el eje central y su manecilla es de color blanca. El Audemars Piguet Royal Oak Offshore ref. 25770ST también conocido como el 'Otro End of Days' viene equipado con el calibre AP 2226/2840 —mismo calibre dentro del primer Royal Oak Offshore y dentro de la mayoría de los otros modelos de Offshores hasta que fue sustituido por el calibre 2326/2840 lanzado algunos años atrás— con una reserva de marcha de aproximadamente 48 horas.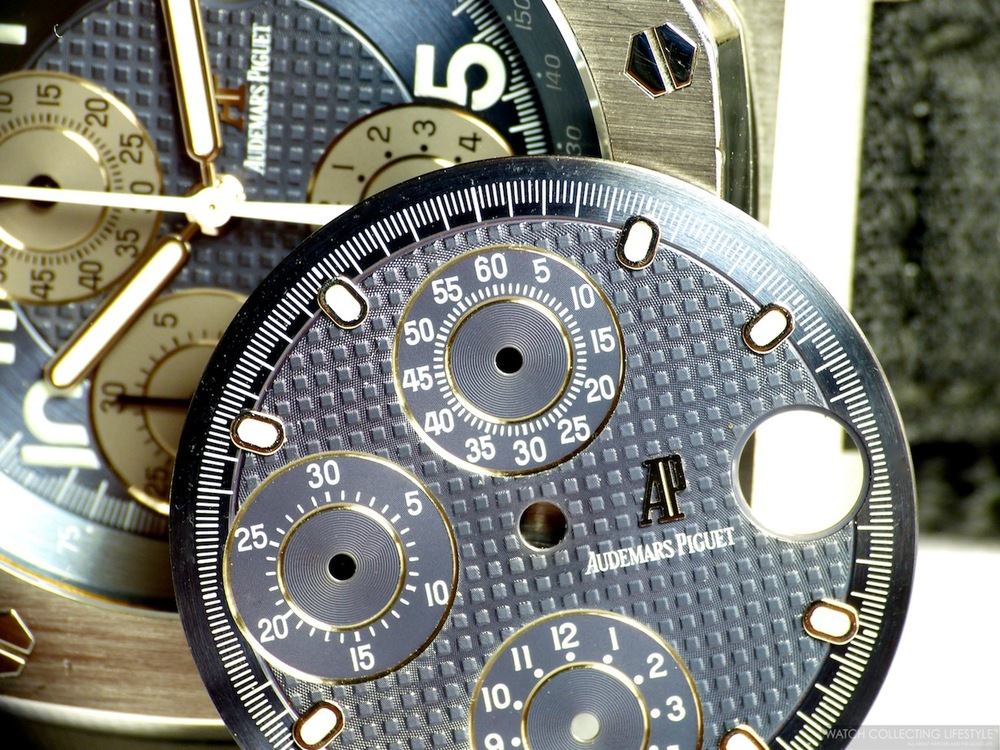 Para conmemorar el 25 Aniversario del Royal Oak en el año 1997, un número limitado de Royal Oak Offshores con este tipo de caja, fueron vendidos con carátulas extremadamente llamativas y coloridas con correas de piel en el mismo color de la carátula. Los colores de aquellas carátulas incluyen el naranja, verde manzana, verde menta, amarillo y rojo
Esta referencia fuera de serie es uno de los Royal Oak Offshores más cómodos. Encontrarse a alguien portando uno de estos relojes es una experiencia única e inolvidable para aquellos 'watchlifestylers' que saben.

Si te consideras un verdadero admirador y coleccionista de relojes Audemars Piguet, más vale que agregues uno de estos a tu colección.
Para más información sobre Audemars Piguet haga click aquí.